Impressum
Verantwortlich für die Seite:
Angaben gemäß DSGVO: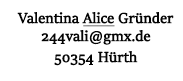 Namentlich gekennzeichnete Artikel spiegeln nicht die Meinung des Betreibers wider.
Diese Fanpage ist ein privates Projekt und dient keinerlei kommerziellem Nutzen!
Sailor Moon ist ein eingetragenes Warenzeichen von Naoko Takeuchi. "Bishoujo Senshi Sailor Moon", it's characters, and events © Toei Animation and Takeuchi Naoko - All rights reserved "Sailor Moon, das Mädchen mit den Zauberkräften" © EM Enternainment - Alle Rechte vorbehalten "Pretty Soldier Sailor Moon" © DiC - All rights reserved.